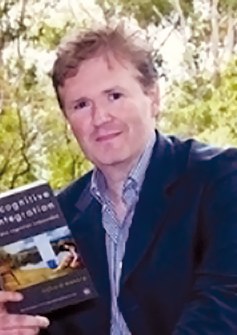 Richard Menary
Richard Menary is currently ARC future fellow and senior lecturer in philosophy at Macquarie University in Sydney, Australia. His research centers on 4E cognition, cognition and external representations, consciousness, mental representations, modularity, pragmatism, the self, and theory of mind.
For more details visit the contributor's



OM Contributions
Publications
Menary, R. (2010). The extended mind. Life and mind. Cambridge, MA: MIT Press.



Menary, R. (2008). Embodied narratives. Journal of Consciousness Studies 15(6), 63-84.



Menary, R. (2007). Cognitive integration: Mind and cognition unbounded. New directions in philosophy and cognitive science. Basingstoke, NY: Palgrave Macmillan.



Menary, R. (2007). Writing as thinking. Language Sciences, 29(5), 621-632.



Menary, R. (2006). Attacking the bounds of cognition. Philosophical Psychology, 19(3), 329-344.