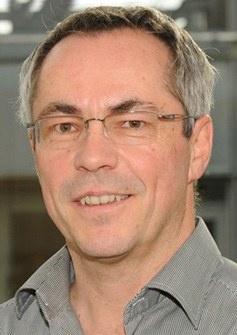 Mark May
Mark May is currently professor of psychology at Helmut Schmidt University in Hamburg, Germany. His research centers on 1st-person methodologies, embodiment and embeddedness of cognitive processes, human consciousness, spatial cognition, and spatial orientation.
For more details visit the contributor's



OM Contributions
Publications
May, M. (2004). Imaginal perspective switches in remembered environments: Transformation versus interference accounts. Cognitive Psychology, 48(2), 163-206.



Vogeley, K., May, M., Ritzl, A., Falkai, P., Zilles, K., & Fink, G. R. (2004). Neural correlates of first-person perspective as one constituent of human self-consciousness. Journal of Cognitive Neuroscience, 16(5), 817-827.



May, M., & Klatzky, R. L. (2000). Path integration while ignoring irrelevant movement. Journal of Experimental Psychology: Learning, Memory, and Cognition, 26(1), 169-186.



Kirschbaum, C., Wolf, O., May, M., Wippich, W., & Hellhammer, D. (1996). Stress- and treatment-induced elevations of cortisol levels associated with impaired declarative memory in healthy adults. Life Sciences, 58(17), 1475-1483. 



Diederich, J., Ruhmann, I., & May, M. (1987). KRITON: A knowledge-acquisition tool for expert systems. International Journal of Man-Machine Studies, 26(1), 29-40.